At this very minute, all of the top five books on our website are by Its Sew Emma! What an accomplishment! And, their new book – Perfect 5 Quilts is already in the top 20.
This book features 17 quilts that will delight and inspire, all made with classic 5" charm squares. With options using 1, 2, 3, and 4 charm packs, it is the perfect companion to help quilters' stash bust (as well as stash build)!
This book was written as a companion to the new Creative Grids® Perfect 5 Ruler – both due out later this summer. For CGR fans, you know that we normally don't share a ruler until it is actually available to ship. But, with this book already trending, we through the rules out the window so you can pre-order both now!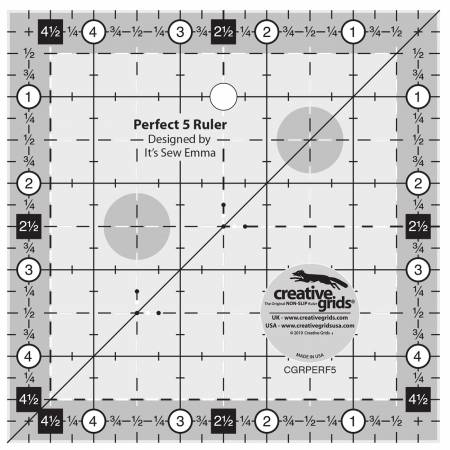 The Perfect Five Ruler is a true five-inch ruler with all of the markings you need to cut and trim 5″ squares – as well as the half-square triangles, four-patches, etc. that you create with them! What a pair!
The pre-sales for both of these products has been incredible so place your orders now so we can order enough to make sure that you get the first shipment!