Exciting News Alert! Gudrun has expanded her enchanting collection with the addition of two "Lil's" to the line, and they're stealing our hearts! Crafted with irresistible charm, these patterns are perfect for quilters of all levels. What's even more delightful? You can create these adorable designs with just a package of 5″ squares, binding, and backing fabric! No fuss, pure joy! Assembling a kit has never been so simple! Whether you're a teacher introducing students to the magical world of quilting or a seasoned expert, Gudrun's techniques and rulers make it a breeze. What a fabulous way to dive into creativity and fun!
Saga and Mia can easily be cut with the new Creative Grids Stripology® Quarters Mini ruler that has slits every 1/4″.
Nikki is a great stash buster. Finished sizes include Crib 32in x 48in, Lap 48in x 64in, Twin 64in x 96in, Full 76-1/2in x 102in, Queen 93-1/2in x 102in & King 102in x 102in.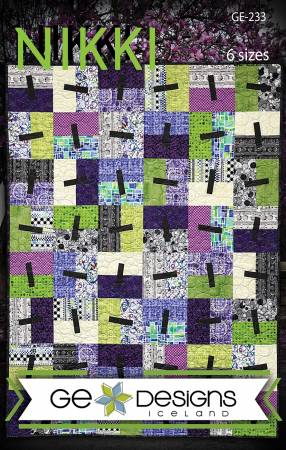 Ariel is a stunning strip quilt. Finished sizes include Crib 38in x 38in, Lap 57in x 76in, Full 76in x 95in & Queen/King 95in x 95in.

Supersized Amalie is a great redesign of an old favorite. This new variation has six available sizes including Crib 37-1/2in x 50in, Lap 50in x 75in, Twin 62-1/2in x 87-1/2in, Full 75in x 100in, Queen 87-1/2in x 100in & King 100in x 100in.
These patterns are oh sew easy if the blocks are cut and trimmed with the Stripology® XL or the Stripology® Squared, both by Creative Grids®.

Phoenix works extremely well with the Creative Grids Stripology® XL. It requires just two shades of fabric for a stunning finish.
All of these patterns are due to arrive in August so place your orders now.