This is such a great product that I can't believe I missed it – or all of the different ways I can incorporate it into my projects! Helen Stubbings of Hugs 'n Kisses has thought of everything!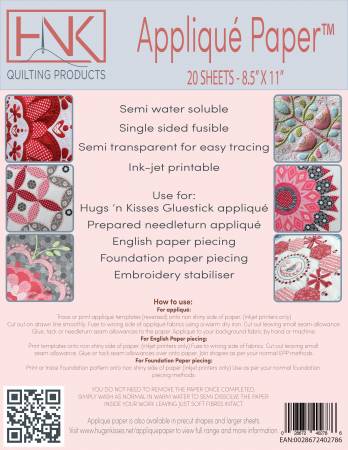 Helen Stubbins says: Applique paper is a revolutionary product to use for perfect turned edge Applique. It is semi water soluble, semi transparent, has a light fusible on one side and can be used in many techniques. Use for: Glue stick applique, needle turn applique, English paper piecing, foundation paper piecing and as a temporary stabilizer.
How great is this for labeling your quilts? I cut out a heart and ironed it to the wrong side of a fabric. I used a glue stick to turn the outside edges. Then I used a pigma pen to do the labeling and stitched it to the back of the quilt! Done!
It is pliant right out of the package but maintains its shape when the glue is applied. Helen of Hugs and Kisses is also known for her English paper-piecing so she also offers several sizes of hexagons, etc. so you don't have to cut them – or remove the templates later!
These pre-cut shapes are available in hexagons, circles, clamshells, diamonds, and every other shape you can imagine! Visit our website to see all of the available shapes and sizes