The Stitchy Sticks 3-piece Set from The Gypsy Quilter® has 6 main features to aid in general sewing and quilting, hand and machine appliqué, fabric turning, English paper-piecing and vinyl crafting, stuffing and more.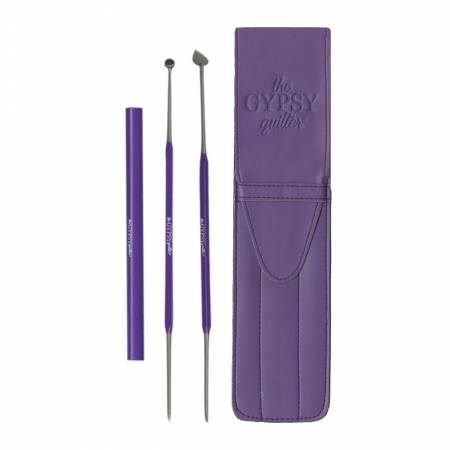 1. Stiletto: Use it to guide fabric while at the sewing machine- to keep fingers a safe distance away from the sewing machine needle. Gently guide fabric through the presser foot when sewing both straight and curved seams. Keep fingers safe from the heat of a hot iron. Poke out corners of sewn fabric. Push stuffing into tiny spaces. Hold small seam allowances in place while under-stitching. Precisely place layers of fabric and line up edges.
2. Blunted Ball Tip: Use to position template pieces or small pieces of fabric at the iron, rather than using your finger. Use in combination with the turning tube to turn fabric. Use to turn straight sides of appliques.
3. Tapered Finger: Use to assist in opening seams. Use to finger press seams. Use to wrap fabric around templates. Assists in specific placement of applique. Use to hold glued pieces in place.
4. Spatula: Use to pry starched fabric or fused fabric off the pressing surface. Use to score release papers when working with Fusible interfacing and stabilizers. Use to remove English Paper- Piecing papers, foundation papers or other backing papers after stitching is complete.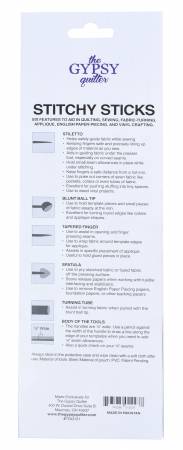 5. Turning Tube- To assist in turning fabric when paired with the blunt ball tip.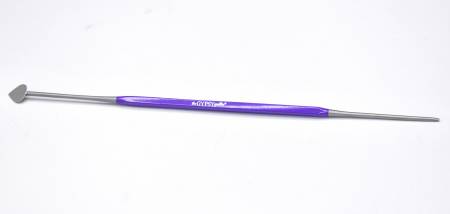 6. Body of the tools- the squared handle measures 1/4 inch on each side. Use a pencil to draw a 1/4 inch seam allowance beyond the edge of the template. The flat sides stop the tools from rolling off the working surface.

These are the perfect tools to use to give your sewing and quilting projects that professional look. They are in stock now and would make a great gift! Watch a video here: //www.youtube.com/watch?v=AO3sQk_BAcs