Designed by Quilters Inspiration! There is a little bit of Irish in all of us so why not celebrate it? The leaves of these tumbling shamrocks are cut from a variety of 2-1/2in strips. The variety of prints adds depth and texture to the design by creating another design element. Adjust the size accordingly to make it fit your table or gift it to your favorite bloke as a throw! Either way, it will be treasured! The individual leaves are trimmed to 4 1/2″ and the entire shamrock are trimmed to 8 1/2″ so the Creative Grids® CGR4 and/or CGR8 are recommended.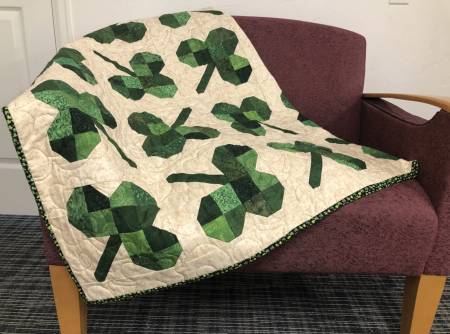 Sunflowers Ala Lulu is a great introduction to a more artistic approach to quilting. This raw-edge appliqué project features layered squares to create the petals of the sunflowers. Add some leaves and bias tape stems and you can have this done in an afternoon! The Creative Grids® CGR9 is recommended.
Welcome the newest Cut Loose Press™ designer, Beth Weigt! She teaches classes and wanted a simple pattern with larger pieces that would showcase the Creative Grids® Kitty Corner Tool (CGRDH5). Happy Kitty's Table Topper features twelve-inch blocks, and since there are only four of them, it truly can be finished in an afternoon.
The Kitty Cornered Blocks are combined with a center square and rectangles like a nine-patch. Then they are separated by sashings and a corner-post which create a secondary center design. Choose three coordinating fabrics and begin!
Cut Loose Press™ patterns are always in stock so place your orders now!