Creative Grids® has joined forces with The Gypsy Quilter® to make it even easier to mass-produce one of their all-time favorite products, the bowl cozies. This nested set includes both sizes of bowls. The small bowl cozy template works with the precut bowl cozy batting (TGQ036), and the other template with the large (TGQ103). If you prefer to cut your own batting, we recommend The Gypsy Quilter® cotton batting (TGQHECB12 or TGQHECB18) which is microwave safe.
Just two squares of batting and two squares of fabric make one cozy. Simply fold the fabric in quarters and rotary cut around the template. It doesn't get any easier than that! A complete set of instructions is included with the templates.
A visual learner? Scan the QR code on each template to watch a video demonstration or click this link to view it now: Video tutorial
Note: Since the finished product is intended to be used in a microwave, you MUST use 100% cotton thread, batting and non-metallic fabric.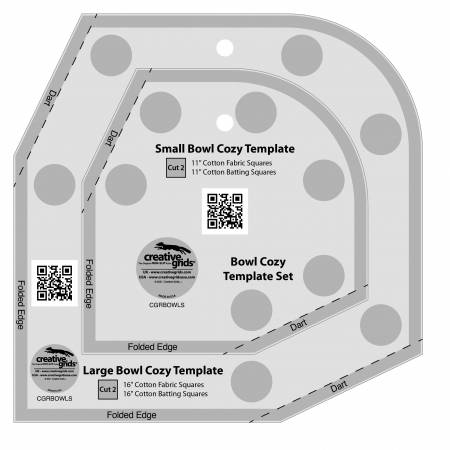 This 100% cotton batting is great for other projects as well. Tired of leftover batting scraps when working on smaller projects? This 100% cotton batting is designed just for you! It is the perfect choice for quilt-as-you-go projects, placemats and table runners. There are 10 yards on a roll, so you can complete multiple projects with just one roll. Since it is needle punched, it can be quilted a maximum of eight inches between quilting lines. Weighing 4-oz. per square yard, it has just enough body to add dimension to your project. This batting is microwave-safe in 2-minute increments, up to 6 minutes, when you use 100% cotton thread and fabric.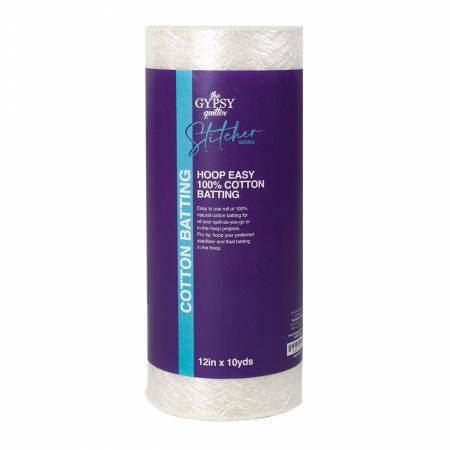 The large bowl cozy required an 18-inch width.
This Color-Blocked Bowl Cozy from Cut Loose Press™ is created with the Gypsy Quilter® Large Bowl Cozy Pre-Cut Batting which is microwave safe. All you need is 1/3-yard of two coordinating fabrics and a few hours of your time. Both sides of the cozy are cut from an over-sized quarter-square triangle block, the perfect choice to accent the quarters of the bowl.
The pattern is written for one cozy, but since the pre-cuts include enough batting to make four, you may want to make them all for gifts! To make all four, you need just 1 yard of two coordinating fabrics. Invite friends or teach a class. They will love going home with a finished project.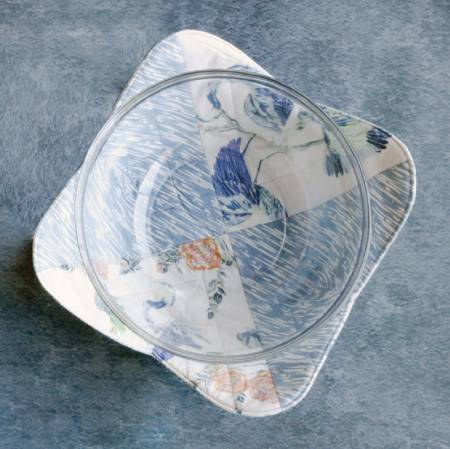 Or buy the batting that is already cut.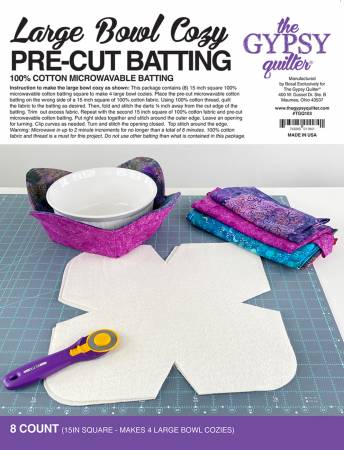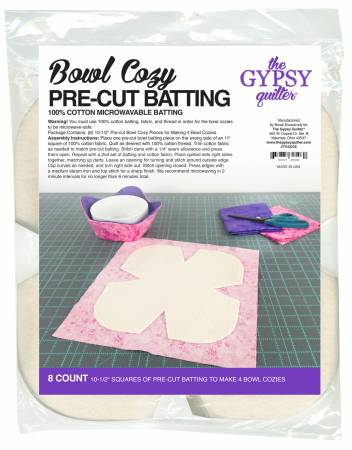 With wedding season starting, these would be great shower gifts!