Peppermint Twist (#CLPSCH002) is a darling table runner by Sheila Christensen that features the Creative Grids® Half Sixty ruler. Since you cut a multitude of shapes to create the candies, it is a great choice for a class!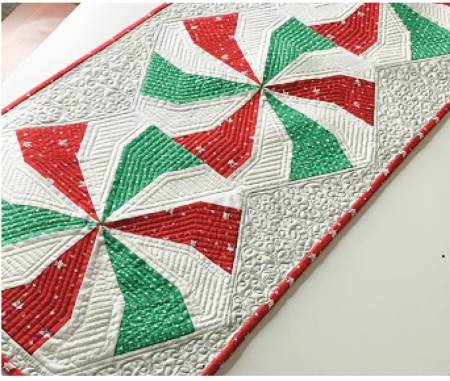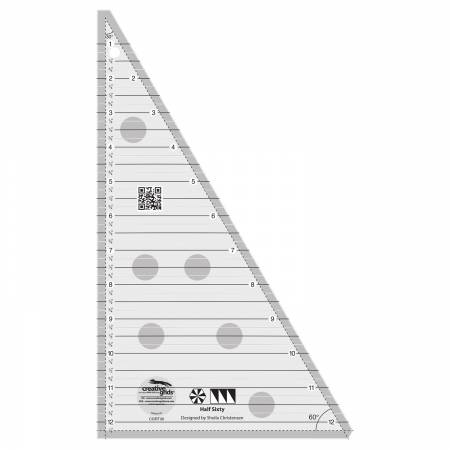 Hearts on the Half Square (#CLPPHA015) was designed by yours truly so I am a little prejudice! It is made with 80 layer cakes. My family calls this the wedding quilt because I have made so many of them for wedding gifts. The hearts are the perfect size for signatures and messages for the honored couple. At 75 x 91 inches, it is the perfect size for cuddling. It also works great as a memory quilt for any event: graduations, anniversaries, babies…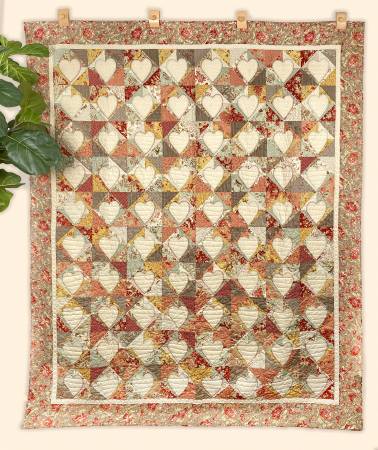 Since this quilt is made with half-square triangles created from ten-inch squares, I used the 15-inch Creative Grids® Seam Guide Tool (#CGRSMN15) to mark the sewing lines. It is specifically designed to span the diagonal of a 10″ square!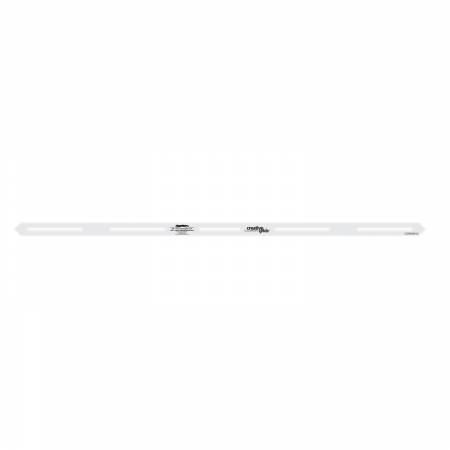 Putting the top together is a breeze when all of the half-square triangles are trimmed to the exact same size!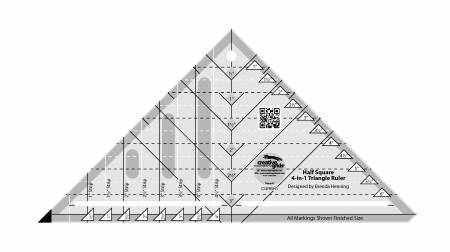 Charmed Hearts (#CLPPHA014) is made with 80 charm squares pieced into offset four-patches. Or, if you make Hearts on the Half-Square – and carefully trim the excess fabric out behind the hearts, you get a twofer!
Since this is made with five inch squares, the 2 1/2″ width of the I love my Quilting Friends ruler (#CGRQF26 )works great to cut the four-patches.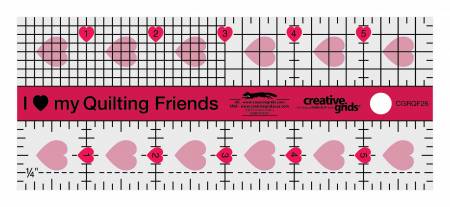 If you like to do handwork, the hearts for both quilts can be appliqued. The Gypsy Quilter Freezer Paper (#TGQFP811H) is recommended. It comes in 8 1/2″ x 11″ sheets so you can trace one page of hearts and run it through a home printer to save tracing time.
But, if you prefer machine embroidery, use Print-N-Fuse (#PNF25). It is also available in 8 1/2″ x 11″ sheets so the hearts can be copied on a home printer. Follow the package instructions to fuse the stabilizer on the back and fuse in place.
Deb Heatherly designed this Hexagon Pillow (#CLPDHE039 )to showcase a favorite print or photo transfer. What a cute, easy project – and a great gift.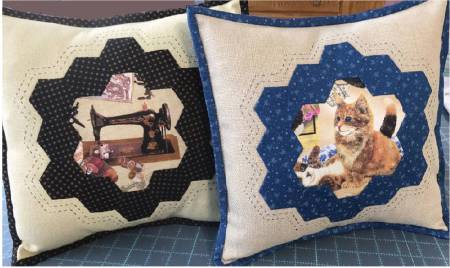 A friend of Deb's made this Hogwarts version – I have some grandchildren who would love this version!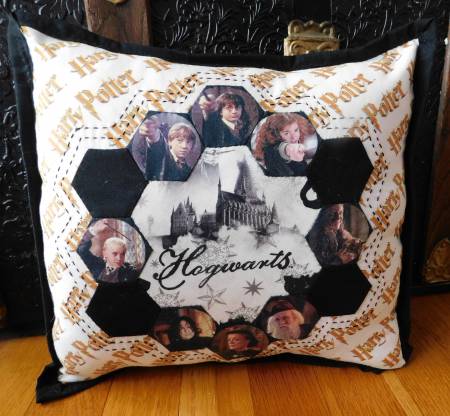 Since Cut Loose Press™ patterns are printed on demand, they are always in stock!