Amy Barickman is re-releasing her Vintage Notions book which was inspired by a correspondence school in Scranton, Pennsylvania. This school existed over 100 years ago!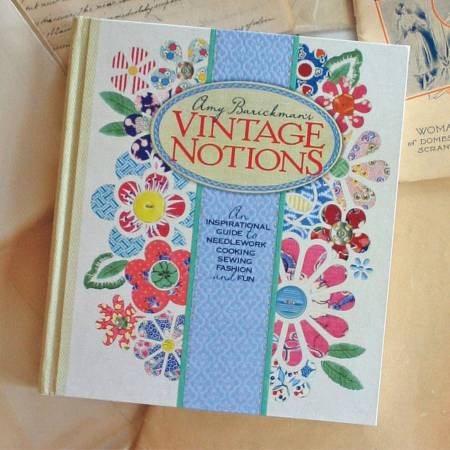 In her words:
This book is an inspirational guide and creative collection that features needlework, cooking, sewing, fashion, and fun. It was inspired by the wisdom of Mary Brooks Picken, a pioneer in the domestic arts and international authority on dressmaking and fashion. Mary's sole purpose, which resonated so deeply with me, was to educate women, encourage their entrepreneurial spirit, and elevate the value of their work. Mary's name may not be familiar to you now, but in these pages you will be charmed by her vision and inspired by her blueprint for living a simple, fulfilling life.
In Vintage Notions, I join creative forces with a previous era to preserve Mary's work and showcase it alongside my own extensive collection of vintage textiles, needlework, illustrations, and memorabilia, for a new generation of sewing and crafting sisters.
The book features:
– Inspirational essays and projects for each month of the year
– Seasonal recipes and decorating ideas
– Four storage pockets one for each season
– Twelve Magic Patterns easy-to-make, chic sewing projects
– Vintage timeless advice on health, character, beauty, style, fashion, parenting, communication, friendship, spirituality, community
– Glossary of Stitches with 28 illustrated hand embroidery stitches.
Amy has also released a series of YouTube videos – one for each month that provides additional insight into each chapter.:
//amybarickman.com/vintage-made-modern-videos/
If you would like to do this as a book club on a monthly basis, study guides are also available:
//amybarickman.com/wp-content/uploads/2011/10/VN-BookGuides_10.03.2011.pdf
This book is due to arrive the end of this month and would be the perfect Mother's Day gift for anyone who loves vintage!