We just released the Creative Grids® Kitty Cornered Tool by Deb Heatherly and they have been flying off the shelves. Many of you are doing online demos so I thought I would share some marketing material available to make it easier for you!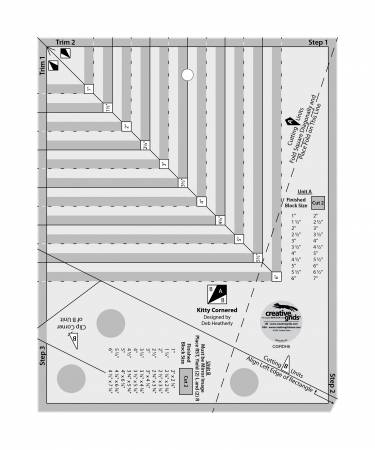 Visit the Creative Grids website www.creativegridsusa.com to see information on all of our products and encourage your customers to do the same. When you choose a product, all of the patterns that support that tool are shown at the bottom of the page. You can also watch the video demonstrating how to use the tool and download a set of instructions. Yes, the instructions come with the tool, but if you accidentally threw them away, we've got you covered!
You can also download an interactive Wishlist that shows all of our rulers so you can keep track of your personal inventory. This list is updated every time we release a new item!
If you are a shop wanting to demonstrate this ruler, we have done a lot of the legwork for you! Click the LogIn button in the top right corner of the Creative Grids USA homepage. Use your Checker Distributors account number and password to log in.
Go to the Storyboard link to download a Block Set of this tool. The block set includes all 11 sizes of this block in actual size! The marketing department literally takes our test blocks and scans them into the computer. You no longer have to sew samples of every size to see the diversity of the tool! Send the file to your favorite print shop and have them print them on card stock. What a silent salesman!
We also have prepared a Storyboard for you. This includes step-by-step instructions on how to use the tool – blown up so it is easy to view. Basically, these boards are the highlights of the instructions that are included with the tool – but in poster size!
Under the Free Graphics tab, you can use the banner created for the tool to advertise that you have it in stock.
While you are visiting the Toolbox, check out all of the other free resources provided for you! Just make sure you have enough product available when the orders fly in!