I already want to make these for everyone I know!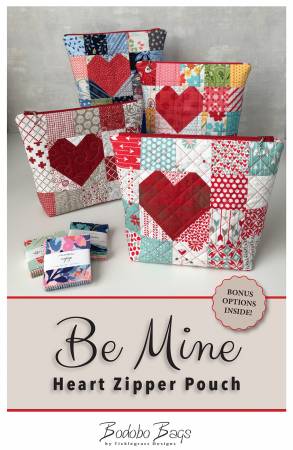 When my kids were growing up, I would write them a love letter every year for Valentine's Day. We would do a scavenger hunt complete with hokey poems…Roses are red, Daddy is blue; go to the place where he takes a poo…you get the picture!. Emily Dickenson, I am not, but when you raise four boys and a girl, you have to consider your audience!
I had already decided to bring back that tradition for my kids and grandkids this year. Because of the pandemic, I will send poems and letters to the parents and pass on the tradition. But wouldn't these bags be great envelopes for the letters as well as a few treats?
Check out these features:
BAG DIMENSIONS: 8in Tall x 7in Wide x 3in Deep – 9.5in at the top when closed.
Bag can be made using one mini charm pack (42 – 2.5in) squares.
Pattern includes instructions for two different ways to attach the zipper.
Added Bonus option for a smaller bag.
Valentine's Day is on a Monday this year so why not hold a class on the Saturday before. If you have embroidery machines, an initial or monogram in the center of that heart would add the awe factor!
These patterns are due to arrive next week so order them now!
No exposed seams.