I ran into Kim from Kimberbell while we were setting up the booth and she told me that Broomhilda was visiting.
The description for this is so darn cute – you can't improve on perfection so I am not even going to try:
Come sit for a spell in Broomhilda's Bakery where every ghoul-friend is welcome! Hang your hat and rest your witchy toes, while sampling the spooky sweets like Boo-Berry Pie and Rice-Creepy Treats. Kimberbell's vinyl and glitter sheets conjure the cutest applique with charming frogs under glass, plus diva witch hats and high heels. All the extraordinary embellishments like Mylar candy corns and flowers, fuzzy fringed spiders, and Broomhilda's collection of eyeballs will have you screaming in a good way.
Kimberbell's spook-tacular new quilt features: 26 embroidered blocks, Flying Geese (pieced in the hoop) and three more traditionally pieced blocks include Pinwheel, Four-patch, and Broomhilda's twist on a Sawtooth block, which she calls the Sweet-tooth Star. Plus 4 pieced picture blocks, where the sections are embroidered separately, then applique images are aligned before piecing the blocks together to make a complete picture. The quilt can be made with the 4×4 and 5×7 hoop sizes.
Broomhilda's Bonus projects include:
Smell my Feet Tea Towel
Face First Frosted Cupcake Hot Pad (4 sizes)
Suspiciously Sweet Table Runner (2 sizes)
Apothecary Jar Wall Hanging (2 sizes)
Under Your Spell Bench Buddy
And, in typical Kimberbell style, she has included an embellishment kit that includes everything to make this sing!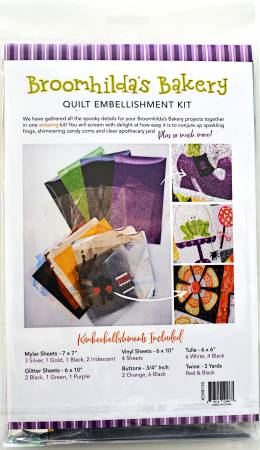 Don't have an embroidery machine? It's okay. there is a version for you as well!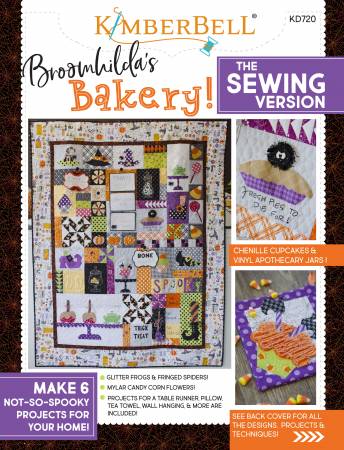 And, of course there is a fabric line to make it all oh so easy!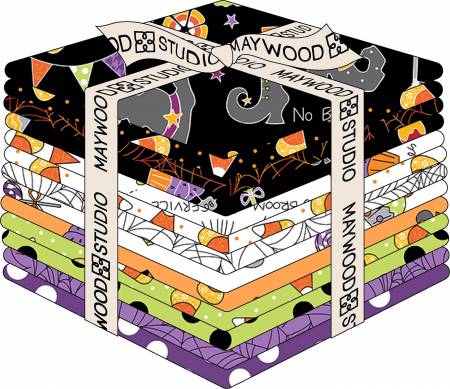 Everything will be in stock by next month so plan your classes now!