Don't you love the name?

This Cut Loose Press™ pattern #CLPKAL014 features four letters that are all pieced individually after the angles are cut with the Creative Grids® Spiderweb Ruler #CGRKA6. The width of each letter doesn't matter. Each letter can be trimmed after the sashing strips are added so that the height of each block is exactly the same before they are sewn together.
Karla Alexander is one of my favorite designers because she thinks WAY outside of the box. In this case, she created all of the cutting instructions to work with directional fabrics. And, the pieces are oversized so they are trimmed to size after piecing the angles. With big pieces and built-in fudge factors, even beginners will be successful. The angled pieces are all cut with her Creative Grids® Spiderweb Ruler.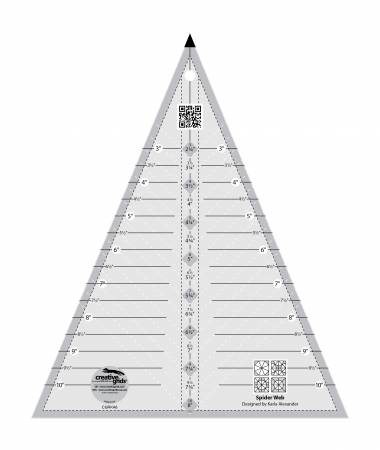 What a great shower or wedding gift. The guests could sign the backing fabric.
At 18 x 53 inches, it would make a statement hanging above a bed! I'm thinking about framing each letter individually and hanging them as a headboard.
If you are a visual learner, a video tutorial will be available soon. Everything is in stock so place your orders now.