Wind Drifter includes instructions for two sizes. Make half-square triangles and lay them out to create a pinwheel of motion. The large size makes a great throw. The smaller size makes a stunning wall hanging.

In her words, this 67-1/2″ x 65″ quilt uses Fat Eighths prints to make a collector's paradise. Blocks feature an assortment of jars, bowls, and vases sitting on shelves. Fun for home decorating themes or novelty prints like marbles and spools of thread, or pantry items like pickle jars and candy bowls. Patchwork piecing with stitch and flip corners make this a fun and creative quilt.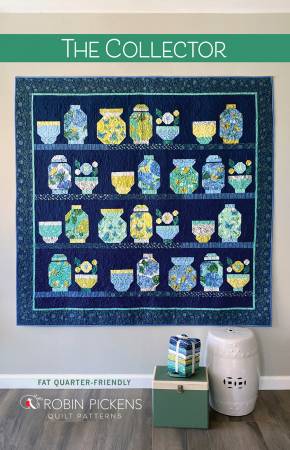 These pillow covers offer inviting messages of "Sit down + stay awhile". The word pillows are sized at 22-1/2″ square and the plus pillow is a smaller 16-1/2″ square. The letters touch each other and look best with a variety of colors/fabrics of 1/8 yard each or fat eighths. Great project to use scraps or bundle pleasing color palettes of fabrics for these cheery pillows. Instructions are written with separate cutting and sewing instructions for each pillow so it is easy to only make one of the pillows.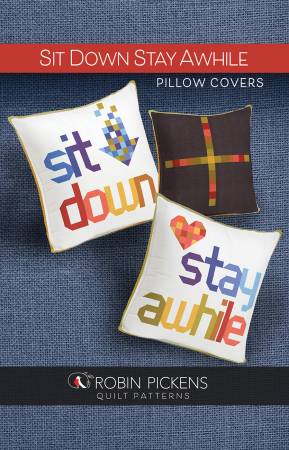 These are due to arrive the end of this month so place your orders now.