Roma of RJ Designs has added a new pattern to her popular jelly roll rug series – Pillows, Placemats, Coasters and Trivet Too!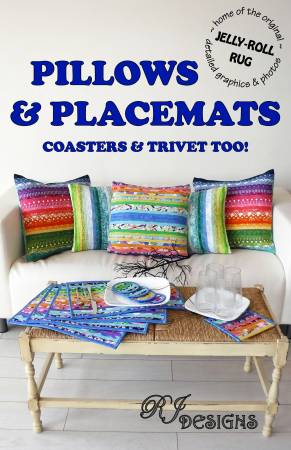 What a fun and easy Make It/Take It class for the holidays! Roma has endorsed the new Gypsy Quilter Jelly Roll Tube Maker that removes the tedious folding step.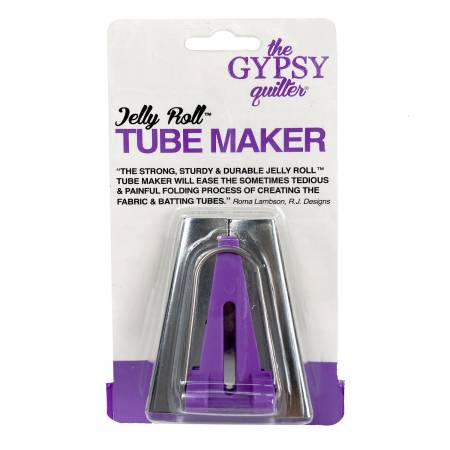 I don't want to miss anything so I am quoting the description:
To make the Fabric & Batting Tube, place a thin batting strip on the wrong side of a 2 1/2″ fabric strip. Feed the layered (fabric & thin batting) strip, batting side up, into the wide end of the Jelly Roll ™ Tube Maker. If needed, place a sewing awl in the slot on the tool to pull the layered strip through. Then fold the now magically folded, layered strip in half as it comes out the other end & place under the sewing machine presser foot ready to stitch. Keep the Jelly Roll Tube Maker close to the sewing machine & slide along as you sew.
The metal Jelly Roll Tube Maker may be used with or without an iron (with caution) for other similar technique projects.
Endorsement:
"As the creator of the original Jelly Roll Rug & subsequent patterns, I have dreamt of the production of this amazing, helpful notion. The strong, sturdy & durable Jelly Roll(tm)Tube Maker will ease the sometimes tedious & painful folding process of creating the fabric & batting tubes. The Jelly Roll ™ Tube Maker will save time, produce consistent width tubes & help to provide amazing results."
You won't be able to make just one!