Zoey Zips from Lazy Girl Designs are adorable zip pouches with basket-style handles created from leftover zipper lengths. The pattern features two sizes: Small: 7 1/2in L x 2 1/2in H x 2in D, uses one 14in zipper. Large: 9 1/2in L x 3 1/2in H x 2in D, uses one 16in or longer zipper.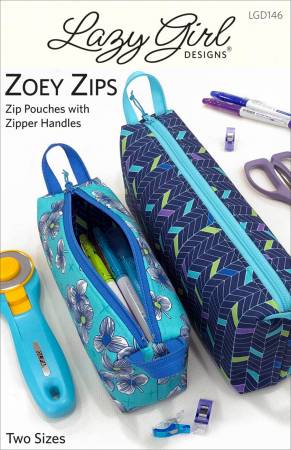 Perfect for sewing notions, pencil case, and all of your little treasures! Grab your favorite fabrics and cut a little, sew a little, zip a little – and done! Joan recommends using Lazy Girl Designs Face-It Soft fusible interfacing and fusible fleece.
The Lexi Carryall is the perfect choice for a class! It combines several of Joan's signature techniques so learning opportunities abound!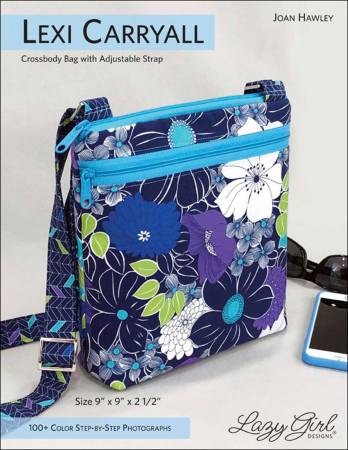 This crossbody bag with an adjustable one-inch wide strap has numerous pockets to organize everything you need in style!
Lexi features:
– A zippered main compartment loaded with pockets to keep your essentials organized and easily at hand.
– A roomy main compartment that easily holds a 16oz water bottle.
– A front zip pocket for quick access to secure storage.
– And a back slip pocket for your phone.
Teach your customers Joan's innovative zipper installation that allows the top zipper to open fully from edge to edge for easy access to everything inside. Then show how to divide and use a double pull zipper. She includes numerous pressing and finishing tips that give all of her projects a professional quality look.
At 9 x 9 x 2 1/2 inches, this baby packs a punch and is big enough to carry an iPad Mini, Kindle, or your favorite small table. With over 100 full-color step-by-step instructions, you will be successful the very first time! These patterns are due to arrive later this month so order them now!