Have you been wanting to host an online event but don't know where to start?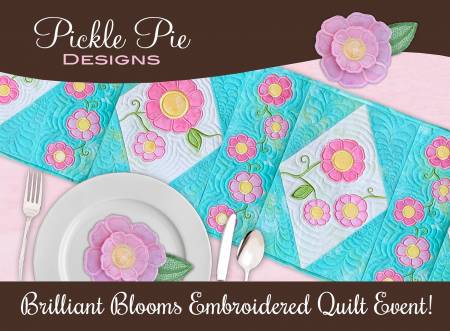 Pickle Pie Designs is here to help with their 'Ready-to-Run Embroidered Quilt Event'! Whether your shop sells machines or not, you can host this event! Your students will use their own machines in the comfort of their sewing room. Pickle Pie has included everything to host a fun event – they will even guide you through the setup and running your easy-peasy online event on a proven platform that your customers already know how to use.Your customers will tune in to participate and watch the series of provided instructional videos you'll post throughout the day. They'll be able to post questions and get answers from your staff and other participants in real-time, have the opportunity to socialize with others in the group during this fun shared experience, and they'll stay tuned in for exciting door prizes, all within the comfort of their sewing room.
To help you gain confidence to host your own event, YOU can experience the Brilliant Blooms Online Embroidered Quilt Event on Monday, August 24!
Checker will host a class for shop owners on Monday, August 24th. To attend, you need to order one Student Kit (Item #ESKBB1) by August 14. (There is no prep work for the class but this grace period gives us a chance to make sure everyone gets their kits in time! We will take care of the rest.) Simply email our Buyer, Nichole Schneider after ordering to gain access to the class. nichole.schneider@checkerdist.com.
Your customers will learn to stitch the Brilliant Blooms Table Runner during your Event. Just a reminder, you ONLY need ONE Student Kit to attend Checker's Shop Owner Event on Monday, August 24th, BUT to host your own event you will need ONE Dealer Kit plus as many student kits as you have attendees.
BRILLIANT BLOOMS DEALER EVENT KIT Includes Marketing Video and Ad Graphics Custom Branded for your shop, access to complete instructional videos to post/play during the Event, Pickle Pie Designs USB Drive with full Embroidery Design Set for store samples, Cut-to-size and labeled Fabric and Batting Kit, Event Planning Guide PDF, Easy-to-follow Event Day Schedule PDF, Online Event Set-Up PDF, access to Pickle Pie's Customer Service with any questions you have along the way, and Pickle Pie Door Prizes for the event when you schedule your Event Video Trunk Show with Lisa. Please note that separate Brilliant Blooms Customer Event Kits must be purchased for each customer who signs up for your event (Item #EDKBB).
BRILLIANT BLOOMS STUDENT EVENT KIT Includes the following all packed in a sweet Pickle Pie Pink box valued at over $200, Brilliant Blooms Embroidered Quilt Block Design Collection, a $59 value. Cut-to-size and labeled Fabric and Batting Kit, a $29 value, Pickle Pie Pink Tote, Pickle Pie Swag/Goodies, Free Bonus Embroidery Design Collections, and a Catalog.
Don't own a shop? Ask your local shop to host an event!