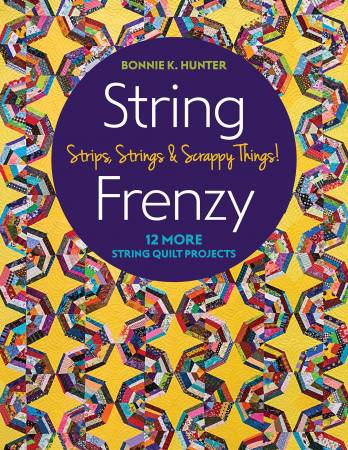 The description of this book was so well done, I just couldn't top it so enjoy!
Once you go scrappy, there's no turning back!
Are you buried in scraps—big pieces, small pieces, hunks, chunks, strips, and parts? Bonnie K. Hunter fans will love her newest book of playful string-quilt projects! Sew a dozen vibrant quilt patterns using the small leftovers from other projects that seem too tiny to save, yet too big to toss. Learn Bonnie's basics for foundation piecing narrow fabric pieces 3/4" to 2" wide, turning them into dazzling scrappy blocks and one-of-a-kind quilts.
• Have a string piecing party with a best-selling author, the great Bonnie K. Hunter
• Love your leftovers! Become a scrap quilt addict, sewing fabric strings and crumbs into brand new blocks
• Hunter fans will love this offering of twelve "use it all" patterns in her signature style
I kept these pics as big as possible so you can see the detail! Simply stunning!
Her quilts are a spectacular study in color! I can't wait to get my hands on this one!