Twice the size of the original Creative Grids® Folded Corner Clipper, the Folded Corner Clipper XL can span a 10-inch block and cut wide, mitered borders.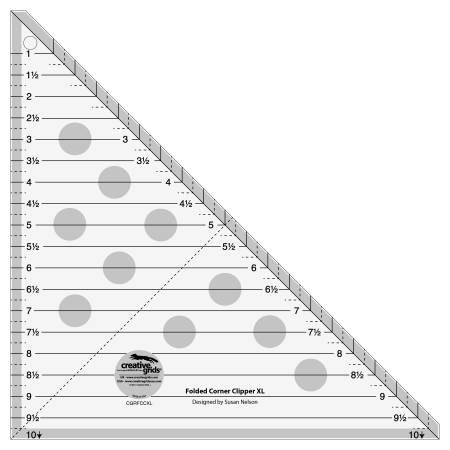 No need to draw pencil lines when prepping your favorite blocks such as snowballs, flying geese, diamonds in a square and cornered rectangles! Since you have to trim the corner anyway, why not trim it first, and use the raw edge as your seam guide? AND… since the corner was trimmed with a straight edge, your bonus triangle is ready to sew into a Half-Square-Triangle block! Or, use the 45 degree angle to create binding or mitered corners.
Use the additional printed angle line to square up and trim the corners from any pieced block. Adding triangles to the corners of a pieced log cabin block, for instance, is now easy and accurate!
Cut Loose Press Reflections
Use the Creative Grids Folded Corner Clipper XL to make large half-square triangles from 10-inch squares and sub-cut them to make this stunning table runner. Then make the leftover triangles into slightly smaller half-square triangles for the placemats. Combine them on your table to add that awe factor to any décor. Note that there are two different layouts for the placemats. I like the light center since it will be covered by a plate and the prints will show!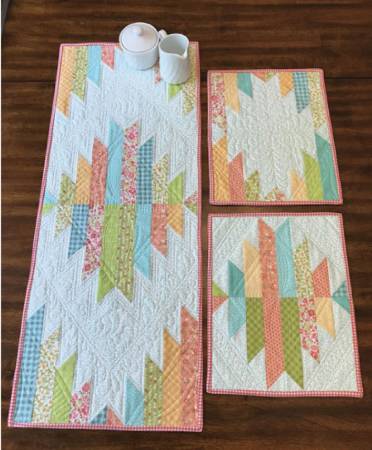 Cut Loose Press Barn Raising Lite
This modern take on a traditional log cabin barn raising quilt goes together very quickly since there are only 48 blocks. The asymmetrical layout adds that awe factor. Since the units are cut with the Folded Corner Clipper XL before sewing, there is no need to draw diagonal lines or trim tails!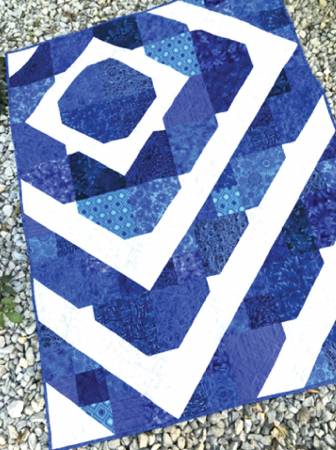 Cut Loose Press Bauble Chain Quilt
Doesn't this remind you of the beaded chains we all loved in the 70's? The baubles are cut with the Folded Corner Clipper XL after the strips are sewn into sets so it goes together very quickly. The cutaway corner triangles are then sewn into the smaller units so there is no waste of fabric. The background is the perfect place to showcase some dramatic quilting!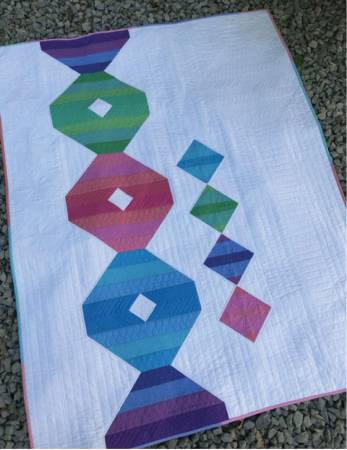 Everything is in stock now, so place your orders!