The popular I Love my Quilting Friends ruler is now available in a smaller size!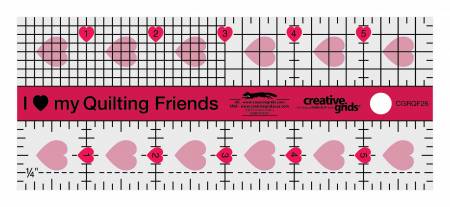 This 2-1/2″ x 6″ ruler is the perfect carry-along size. The pink you see is actually our exclusive grip – just in oh so cute heart shapes! The center pink strip is 1/2″ wide and divides the ruler into three sections. The bottom inch features out traditional markings with a dashed 1/4″ marking along the entire six-inch length.
The top inch is divided into two 3-inch sections. One features a 1/8″ grid, the other features a 1/4″ grid.
This is the little sister to the popular larger 2-1/2″ x 10″ version.

These should be arriving the end of April so order yours now.