Robin's quilts are instantly recognizable – the signature of a true artist. I'm not sure if it is the crisp, clean lines….her color choices….or the way she explodes a block to make it new. Whatever it is it works – and here are three of her newest!
Celebrate the sunny side with Simple Solstice. Use a Charm Pack for the small Lap sized 35 x 45 inch quilt or a Layer Cake for the Twin sized 69 x 90 inch quilt. This quilt uses flying geese, half square triangles and stitch and flip corners with minimal matching of points, making it more novice-friendly. Large sun centers are good to show off bigger prints.
Forward slashes, backslashes, rectangles and half square triangles move around this lively, geometric quilt. Tell a color story, using 11 cuts of coordinating fabrics with added background sashing. You can also make this in a scrappier look using layer cake squares since pieces cut to 9.5 inches. Pattern includes sizes of Lap which uses 1/3 yard cuts, Twin using 1/2 yard cuts and Queen using 3/4 yard cuts.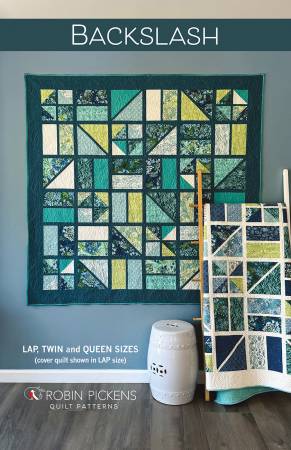 This 71 inch square quilt uses half square triangles and patchwork pieces to make blocks with an added thin sashing for accents. Pattern uses a layer cake or you can use at least 24 squares sized 10 inches each. Pattern is revised and improved from earlier Fair and Square pattern.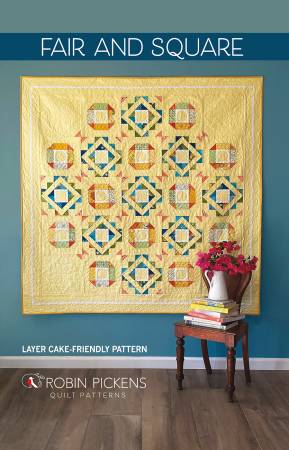 Any of these would be great choices for kits – and all are in stock so order them now!