Hand embroidery and English Paper-Piecing are the perfect marriage – handwork at its best! Now Meg Hawkey of Crabapple Hill has designed two projects around these two favorites!
The Mystery of Enchanted Hollow is a 9 month Block of the Month series. It start off with the pattern for your first stitchery, directions for English Paper Piecing the stitchery "frames", and instructions for a pieced mystery block or 2. The quilt assembly pattern will be included with the final stitched block, when the mystery will be solved! The quilt measures 64 1/2″ x 76 1/2″.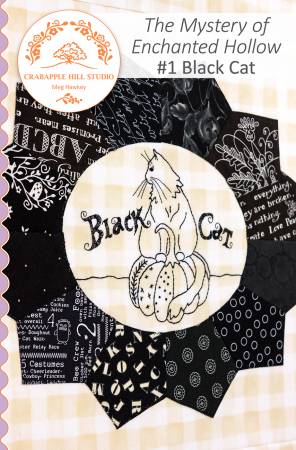 Then there is Winter Garden…in Meg's words….
There's nothing as full of hope for the future than a garden waiting beneath the snow. It's time for seed catalogs and pages full of plans for Spring! This contains a tiny bit of colored pencil tinting, dainty little embroideries, some English Paper Piecing, and a bit of easy piecing. You'll have so much fun stitching the fir boughs!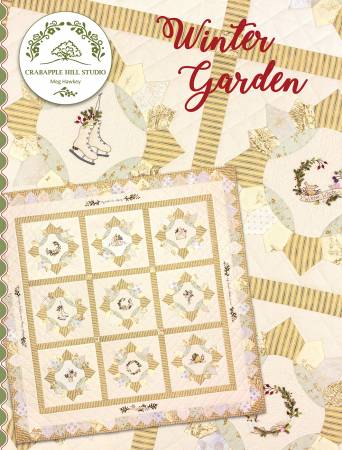 The detail of the embroidery and the soft colors in the English Paper-Pieced frames are so stunning, I had to show you a sample that highlights the details.
And then there is Daffodil Parade – her newest installment in the Vintage Truck pattern series. March's flower is the daffodil. This 15-1/2" x 30-1/2" wallhanging doesn't only have daffodils on the embroidered design… the pieced star blocks look like daffodils too!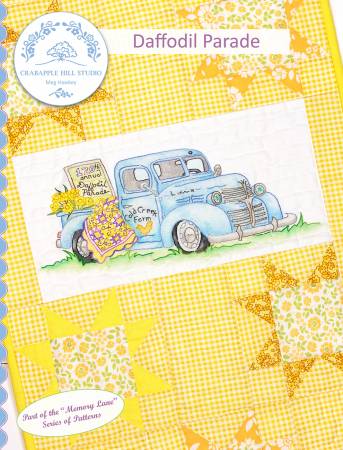 All of these patterns are due to arrive this month so place your orders now!