These bowls are great gifts – and now have never been easier. The Gypsy Quilter™ has chosen 100% cotton batting that is microwave safe – and even cut it to shape. The darts are even cut out!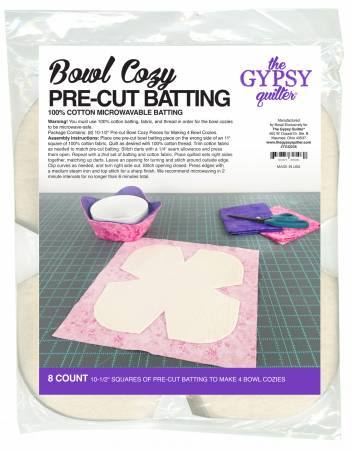 Just place pre-cut batting on the wrong side of a 10.5 inch square of cotton fabric. Using 100% cotton thread, fold and stitch darts 1/4 inch away from the batting cut edge. Trim out fabric excess. Repeat with the second square of cotton and pre-cut batting. Put right sides together and stitch around the outer edge. Leave an opening for turning. Turn and stitch the opening closed. That's all there is to it! OR sew five 2 1/2″ strips together to equal 10 1/2″ and make two bowls from a strip set!
One package is enough to make four bowls.