These cutting tools were a hit at Market! They come in four different versions.
This cutter can be mounted to any flat surface using the adhesive provided. Attach to your sewing machine if your thread cutter is dull – or the machine doesn't have one. Or attach it to your sewing box so it is always within easy reach. The cutter encases a two sides stainless steel blade so you can cut from either side. The bling is just for fun!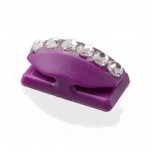 The same cutter is also available as a ring. This adjustable ring features a hook and loop tape strap. Sparkle in our Swarovski Crystal Thread Cutterz Rings! Now your cutting tool is TSA allowed so wear it when you fly!.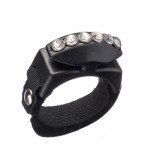 The Thread Cutterz Snipper comes with a built-in LED light, a retractable cord, and clip with a locking safety feature. The serrated cutting blades come in two lengths. Both are safe for air travel.
Great items for a counter display!