One of my favorite jobs is coordinating the Checker Open House each year.  Many of you know that I am not an official Checker employee.  I work for them on a consulting basis – but during the month of August, I get to work there full time, and they are the most fun, thoughtful, hard working bunch of folks you could ever imagine!
What's not to love – we get to throw a party for hundreds of our favorite people, who share the same passion.  And it just gets better and better.  This year we heard positive comments from everyone who attended.  I thought you might like to see the behind the scenes decisions that were made BEFORE you arrived that make this event such a success!
Bottom line, everyone at Checker cares and are team players!  The day after the event, we all met and wrote down every possible improvement that we could implement to make your visit more enjoyable next year.  That is why Checker is the leader in the industry – they don't want you to be a customer for a day (or one sale) – they want you to be a customer for life!
Brad is the fabric buyer.  He bought thousands of bolts before this event so that you had a great selection of fabrics at reasonable prices.  He opened boxes of fabric collections and had them shrunk wrapped so you could see how gorgeous they were.  Then he stayed in the warehouse every day – all day – to answer any questions.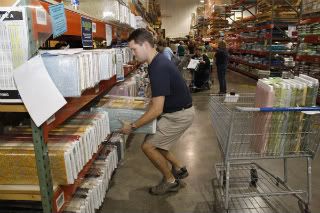 There were advantages to pre-registering.  Not only did that make you eligible for thousands of dollars in door prizes, it also meant that there was a packet waiting for you at the front desk.  That packet included name tags including your account number; invoices for pre-ordered merchandise; a claim check if you won a door prize; order forms; labels with your store information; etc.  The vast majority of our customers pre-registered so they simply walked up to the desk and picked up their packet.  They were ready to start shopping immediately.
The entire building underwent a face lift before you all arrived.  Everything was painted, furniture was replaced, kiosks were designed literally days before the event.  Here are two women shopping at one of the displays in the showroom.
My favorite part of the showroom is the book and pattern area.  These women are taking full advantage of shopping in air-conditioned comfort surrounded by the books and patterns they love!
Gina, the IT director, had a touch screen computer installed in the showroom so customers would have easy access to the website.
Let's face it – when you are lucky enough to buy fabric by the bolt, instead of the yard – shopping carts need to be bigger too.  So how do you accommodate hundreds of large carts in a limited area?  If you are Rob Krieger, you remove some lower shelves so carts can be stored there – and the aisles are still accessible!  Mo more traffic jams!!!
How do you serve over 600 people for lunch?  Pass out lunch tickets at the door, of course!  By having six different lunch times, no one had to wait in line.  The food was wonderful – and they even had someone passing out anti-bacterials wipes so you could "wash" your hands before you got your food.  After all, shopping for fabric is a dirty job – but somebody has to do it!!!
But how do you make eating in a warehouse look appealing?  You call your vendors and have over 250 quilts brought in to make the room eye candy for the soul.  Then you lay carpet – for just one day, bring in tables, cloths and skirts to create a gathering place for everyone!
But what really makes Checker different is the people.  They love what they do – and it shows!  Pat Berry usually mans the front desk – but looks like she is having a good time working one of the twelve check-outs at this show!
And, each check-out station had assistants to organize your purchases; sort everything; and pack it for your trip home.  No lines!!!
The packers loaded the merchandise right into your vehicle.  What a luxury!  The only time you had to touch it was when you put it in your cart!  One shop owner wanted to strap these guys to her roof so they could unload it when she got back to her store!  (As you can see, there was no room in her car!)  Sorry – we aim to please – but draw the line at breaking several traffic laws!!!
And, thanks to the improvements that are in store for next year, it will be bigger and better than ever!!!  See you next year – August 21 and 22!  Save the date!!!